Local Invisalign® Dentist for North Sacramento, CA
Superior Invisalign® Treatments for North Sacramento
A local Invisalign dentist near North Sacramento, Dr. Julianne Digiorno, can give you the confident, healthy smile you've always wanted. She delivers amazing results using Invisalign clear aligners and offers a free consultation to see if Invisalign is right for you.
Teeth shift with the use of custom made Invisalign aligner trays.
The Invisalign System
Is Convenient – Orthodontic emergencies are a thing of the past! Invisalign works around your schedule.
Is Removable – Change your smile, not your lifestyle. Play sports, blow your trumpet, speak to a crowd, and eat whatever you want with clear aligners.
Increases Confidence – This virtually invisible orthodontic treatment makes the teeth straightening journey to a stunning, confident smile will be a great experience.
Improves Health – Your mouth is the gateway to the rest of your body. Many studies have found links between oral health and systemic health.
Is Affordable – We never want money to get in the way of your health. Our team offers many finance options so you can find a plan that's right for you.
Is for Kids, Teens, Adults & Seniors – Just about everyone is a good candidate for Invisalign with Dr. Digiorno, our Invisalign provider.
Meet Your Local Invisalign Dentist
Dr. Julianne Digiorno has a family dental practice near North Sacramento that focuses in general dentistry, orthodontics, cosmetic dentistry, implants, TMJ/TMD therapy, snoring and sleep apnea.
She is passionate about dentistry and helping their patients have a healthy and beautiful smile that will last a lifetime. Her goal is to help patients prevent disease and maintain total body health, through education, nutrition and good home care.
She keeps up with current trends in dentistry through many hours of postgraduate education. Digiorno Dental Fitness currently offers the community of North Sacramento ideal dentistry with state of the art technology and materials.
Dr Julianne Digiorno is the best Invisalign dentist for North Sacramento.
Before and After Invisalign Treatment
Invisalign treatment has proven effective on a wide variety of cases for more than 12 million people!
Should I Go to a Dentist for Invisalign?
In short, it depends. The critical factor is the amount of orthodontic training a dentist has completed and how many Invisalign treatments that doctor has done.
Dr. Digiorno has undergone significant orthodontic training and is an Invisalign provider with years of experience. In fact, she not only delivers amazing results with Invisalign aligners, but is also a Master Provider of FASTBRACES®.
The team at Digiorno Dental Fitness prides itself in being one of the best Invisalign providers near North Sacramento, CA. Most dentists are able to straighten the front teeth. But Dr. Digiorno will provide patients such as kids, teens, adults & seniors with a full evaluation similar to that of an orthodontist..
Complimentary Consultation for North Sacramento
Meet our team, receive a complete initial exam, and find out which treatment options will best meet your needs.
We understand that choosing to receive orthodontic treatment is a big decision, and we respect your reasons for wanting to enhance the way you or your child looks and feels. That's why your first orthodontic appointment with us is complimentary.
Both Invisalign clear aligners and traditional braces are good options when Dr. Digiorno controls the treatment plan.
Smile You've Got Options
Invisalign vs. Traditional Metal Braces in North Sacramento.
Digiorno Dental Fitness near North Sacramento can straighten teeth using either Invisalign® aligners or FASTBRACES®.
Invisalign aligners push teeth into alignment using custom-made aligners. Each nearly invisible aligner puts gentle pressure on teeth while being worn, shifting the position of teeth over time. Unlike traditional braces, these trays can be easily removed when eating and there is no worry about emergency visits to the dentist when wires break and start poking into your cheeks or gums.
Traditional metal braces use metal brackets or clear braces that are attached to your teeth. The wires that attach to these brackets are tightened in such a way as to pull teeth into a new position.
FASTBRACES Technology is comprehensive orthodontics, just like traditional braces, that utilizes new patented technology braces that deliver beautiful results, in as little as 100 days. FASTBRACES uses breakthrough technology designed to cut out the two-step process of traditional braces.
Common Questions About Invisalign Treatment
Both Invisalign clear aligners and traditional braces are good options when Dr. Digiorno controls the treatment plan.
How Much Does Invisalign Cost?
The cost of orthodontic treatment depends on how difficult it is to straighten the teeth and fix the bite. To receive an accurate quote, we invite you to come into the office for a free consultation.
We never want the cost to get in the way of you getting the healthy, amazing smile you deserve. Thus, we make treatment affordable by maximizing any insurance benefits you may have, and offer many different payment and financing options so you can be confident and comfortable getting the smile of your dreams!
What Are Invisalign Clear Aligners?
Align Technology is the original inventor of the virtually invisible, Invisalign clear aligners. They offer an alternative to traditional braces so you can have a straighter smile, a beautiful smile, a new smile! Invisalign has stayed on the cutting edge of teeth alignment technologies.
Invisalign uses a series of nearly invisible, removable and comfortable aligners. Every treatment plan is developed using 3D computer imaging technology and has been proven as effective as metal braces – but with much more comfort and fewer office visits!
Consider Invisalign® for the beautiful straight teeth you've always wanted – without braces.
Does Invisalign Hurt?
Pokey wires and broken brackets are a thing of the past! The only discomfort patients might have during the Invisalign process is a little pressure on your teeth. This light pressure indicates that the teeth are moving to their proper positions. Most patients do not describe their discomfort as pain, but if desired, an over the counter, pain-relief medication can be taken to help. Unlike most braces and cheaper, alternative aligners, Invisalign's smooth design helps avoid irritation and allows you to eat normally.
How Long Does Invisalign Treatment Take?
Treatment times vary based on the complexity of your case. On average, our patient's tooth alignment with Invisalign lasts about 6 months to 1 year. If your orthodontic needs are more severe, treatment may take 1 – 2 years. The goal at our dental office is to give you the best Invisalign treatment possible in as little time as possible.
A local, North Sacramento family who went to their Invisalign dentist for an Invisalign consultation.
Beautiful Smiles For The Whole Family
Dr. Julianne Digiorno is an Invisalign dentist near North Sacramento who cares. Her dental expertise shines through the moment you meet her. Make an appointment today to see how we can help you get the smile you've always wanted.
Sacramento and Folsom
Two Convenient Locations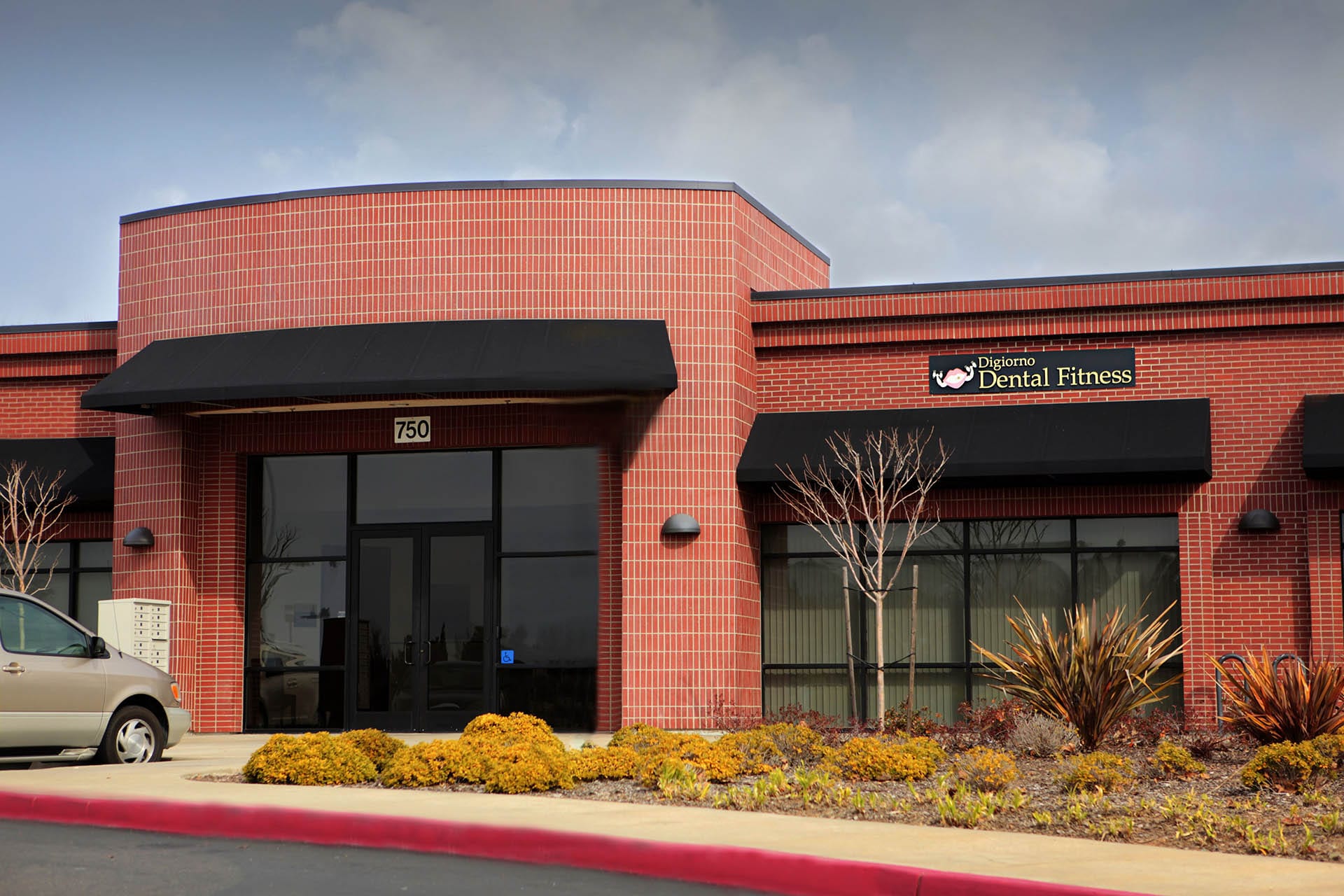 Folsom, CA Dental Office
Digiorno Dental Fitness
750 Oak Avenue Pky, Ste 190
Folsom, CA 95630
(916) 81-SMILE (76453)
Sacramento, CA Dental Office
Digiorno Dental Fitness
1820 Avondale Ave
Sacramento, CA 95825
(916) 486-8525
Digiorno Dental Fitness proudly serves the following North Sacramento, CA zip codes: 95813 / 95815
Proudly Serving the Following Cities & Surrounding Communities
Keep your smile in shape! Schedule an appointment today.